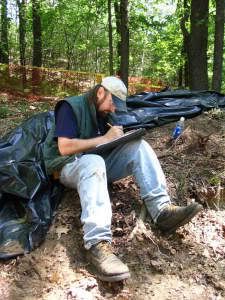 Craig S. Chartier, MA, director and principal archaeologist, has be active in New England archaeology for over 20 years.
After years of working for various cultural resource management (CRM) companies and museums, Craig decided to follow his passion for 17th century archaeology and public education and Plymouth Archaeological Rediscovery Project (PARP) was born. PARP provides professional archaeological, educational and research services for both the public and private sector throughout New England. Our mission is to educate the public about the past and to foster an appreciation of how archaeology can add to the understanding of our communal history. This goal is accomplished through preservation, education and investigation of the Native and Colonial archaeological resources in the former Plymouth Colony and surrounding region.
Craig enjoys sharing his extensive knowledge about archaeology and 17th century history through hands-on education programs. Children enjoy handling real archaeological tools, learning the steps involved in archaeological excavtion, participating in mock excavations and putting together the "puzzle piece" of the Code Rose Site. Education is an important component of PARP…after all, archaeology is about preserving the past ~ educating the future.
Faunal analysis (the study of bones) is another of his passions. With an extensive personal comparative collection he is readily available to assist individuals and organizations in the identification of faunal found on personal properties, beaches or professionally excavated archaeological sites. He believes that bones help tell the story of the site.
For developers and others who are working to navigate the often confusing waters of complying with archaeological legislation, PARP is here to help. Craig offers years of archaeological cultural resource management (CRM) experience and the skill to create dialogues between developers, state historical commission and local government. Don't find yourself lost in a large cultural CRM firm ~ come to us and work directly with Craig.
Whether you have a single artifact to identify or an entire collection, we here at PARP are here to help. Feel free to contact us with any questions, concerns or comments you may have ~ we look forward to hearing from you!